La Belle Farm, Ferndale, NY
Committed to Excellence since 2000!
About La Belle Farm
La Belle Farm Inc, located in picturesque Sullivan County, New York has been in operation since 2000. We raise / produce Organic Air-Chilled Chickens, Antibiotic Free Air-Chilled Chickens, Air Chilled Poussin, Moulard Ducks, Foie Gras, Barbarie Cross Ducks, Guinea Hen, Quail, Kosher Chickens, and Heritage Breed Chickens.
What makes La Belle Farm products stand out from other U.S. and imported products? Our team traveled the globe working with the world's top growers, searching for unique flavorful breeds. All our birds are Air-Chilled which give the meat a more intense flavor profile, and no retained water ever. Our proprietary Foie Gras growing process yields excellent taste and renders off less fat than competing products. For these reason tops chefs, retailers, and gourmet home cooks seek out La Belle Farm products.
La Belle Farm is continuously refining its farming practices. The entire team is committed to developing farming innovations and techniques that support efforts to be gentle to the animals while producing the finest products in the world. La Belle Farms operates under the strictest of sanitation, animal welfare, and supervision guidelines.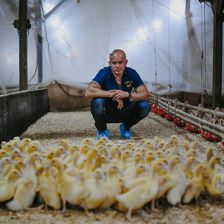 "We take great pride in the selection, growing, and care of our birds. I know that our products will exceed your expectations."

Hector A. Saravia, Owner La Belle Farm Inc.
In Season Now
From La Belle Farm
CUSTOM HARVEST PRODUCTS
EXPLORE THE WORLD OF BALDOR