1883 Maison Routin, Chambéry, France
A pure product from the French Alps
About 1883 Maison Routin
For more than 135 years, Maison Routin has strived to demonstrate its expertise in the field of beverage flavoring. Created in the heart of the French Alps, 1883 syrups are unrivaled in flavor authenticity, purity of taste, and aromatic intensity which is only achieved through the selection of the finest ingredients. In the uncompromising commitment to excellence in craftsmanship, 1883 Maison Routin provides the highest quality and inspiration to chefs, mixologists and baristas around the world, leading them to exceptional aromatic creations.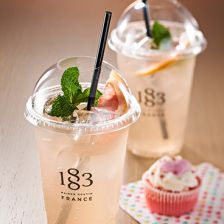 "1883, made in the French Alps, creates innovative, unique and pure flavors while keeping their commitment to an old-world tradition of excellence.
Using these high quality, versatile syrups guarantee my food and beverages recipes will taste clean, delicious and flavorful every time."


Lisa Ash, 1883 Beverage Innovation and Training Director.
In Season Now
From 1883 Maison Routin
EXPLORE THE WORLD OF BALDOR