Driscoll's, Watsonville, CA
Only the Finest Berries
About Driscoll's
The Driscoll's berry company, founded in 1944, is third generation and still family-owned. Though they have eight cooling facilities and distribution centers in the U.S. alone, they do not grow berries themselves. They are a company completely invested in cross-breeding techniques. Their unique patented berry varieties are sold as small plants to independent farmers worldwide that meet Driscolls' rigorous qualification standards.
Driscoll's restricts their patented strawberry plants to a single production year - though that plant could actually generate berries for 6 to 7 consecutive years. Blight and infection are more common in older plants and berry size steadily shrinks. Driscoll's would rather that plant be pulled than sort and discard inferior fruit (only raspberry plants can stay in for 2 years).
Natural cross breeding methods take place in Driscolls' labs. All harvesting is done by hand. Driscoll's supplies each farm with their own proprietary packaging material and constructs a refrigerated packing house near each farm. Every measure is taken to ensure that Driscoll's berries are graded, chilled and meticulously packed into pallets so fruit arrives in the best possible condition.
Driscoll's harvests in southern and central California, Florida, the Pacific Northwest, Baja, Central Mexico and South America to keep supplies steady year round. All Driscoll's farmers around the world adhere to the same strict food safety guidelines, audits, inspections and documentation requirements established by the USDA and FDA. These standards cover sanitation, safe fertilizer and pesticide usage, irrigation water quality, produce handling, storage, transportation and much more.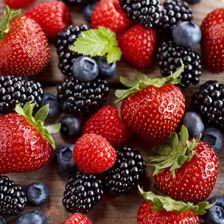 "I believe you should treat all of your employees with respect, as if they are members of your own family. I am proud to work for Driscoll's. Their way of doing business is also my way."

Audelio Martinez, Driscoll's Farmer
IN SEASON NOW
From Driscoll's
EXPLORE THE WORLD OF BALDOR