Lady Moon Farms, Chambersburg, PA
100% organic, family farm focused on growing the highest quality vegetables on the East Coast.
About Lady Moon Farms
Lady Moon Farms was founded in 1988 with 5 tillable acres and a dream. A dream that people can really change the world they live in! Having both grown up as two city kids, Tom & Chris Beddard had a dream to smell the fresh country air, see the stars fill the darkened night sky, have animals of all sorts around for their kids to grow up with and more than anything else grow food themselves. Food that they knew was grown with love and care for the soil and earth. Food that would be free of dangerous chemicals because it never made sense to them why anyone would spray poisons on the food they would eat. Food that would allow their children to grow up strong and healthy.

Having lived that dream they dreamt of filling as many homes as they could with the same lovingly-grown food they raised their own family on. LMF now owns and operates farms in FL, GA and PA to ensure their employees have year-round employment and their customers can count on Lady Moon quality all four seasons. Lady Moon has always been 100% USDA organic and is now Real Organic Project certified.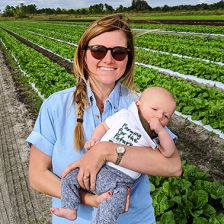 "Hello! I just want to say THANK YOU very much to everyone at Lady Moon Farms for growing/processing/shipping some of THE BEST organic produce ever. Sunday I bought a huge head of organic green leaf lettuce from your farm. It was truly the best tasting and freshest that I'd ever eaten! So again, many thanks to the team at LMF for all that you do."

Anita S., Lady Moon Farms customer
In Season Now
From Lady Moon Farms
EXPLORE THE WORLD OF BALDOR