Diretta, Globally Sourced
Private Label, Carefully Sourced
About Diretta
Baldor Specialty Foods is proud to introduce Diretta, our thoughtfully curated private label brand. When, we set out to expand Diretta, after starting small with a collection of sea salts, it was important to us that we implemented the same level of care that all our makers put into each item we choose to offer. From the moment the idea sparked, our team has worked diligently to source the best and highest quality ingredients, fit for the recipes you've developed and the other ingredients you choose to use.
We know that in the kitchen, you don't have time to tinker with fiddly little bottles and jars, all our salts, chili powders, peppercorns, whole spices, seeds, spice blends, and more, are packed in large format containers, convenient for grabbing, using, and quickly returning to shelves. Everything with the Diretta label is offered at competitive pricing.
This is just the beginning for Diretta. Keep an eye going forward for new items, like olives and canned tomatoes, which are already in the works.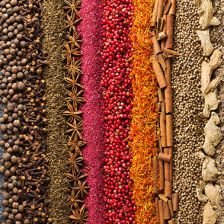 "Diretta brings the best sourced origin ingredients from around the world to your kitchen"

Emily Murphy
In Season Now
From Diretta
EXPLORE THE WORLD OF BALDOR