Seed + Mill, New York, NY
We are all about Sesame - Tahini, Halva, Spices and more!
About Seed + Mill
Seed + Mill is an artisanal food brand, producing delicious, nutritious, and gift-able products all made from sesame seeds, including tahini, halva, tahini soft-serve, and a range of sesame spice blends. We grew from being a little kiosk in Chelsea Market selling a product that was hard to pronounce and completely foreign to a lot of people into a brand that is now sold nationally across the USA and has been featured on the Today Show, Bon Appetit, Food + Wine, New York Times, Forbes Magazine and more!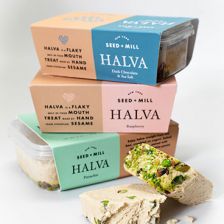 "Sesame Seed Halva Is the Candy You Didn't Know You Were Missing
It's the sweet that's good for you. No fooling."

Ruth Reichl Ruth Reichl, Town & Country Magazine May 2020
In Season Now
From Seed + Mill
EXPLORE THE WORLD OF BALDOR