Rising C Ranches, Orange Cove, CA
We Pick Fruit at its Best
About Rising C Ranches
In 1988, Eric and Kim Christensen purchased an orange grove with a home on it. Once they moved on to the ranch, they started to get ideas about packing and selling their own fruit without going through a large commercial packing house. This gave them the flexibility to grow some of the unique varieties that weren't readily available in produce departments. From this idea, Ripe to You® was born.
Ripe to You® was started by building a small packing facility on the ranch and by packing the Christensen's own fruit. Eric & Kim were excited to pack the different varieties and deliver them to their first customers. Being small allowed them to pick the fruit when it was at its best, and to pick and pack small amounts to meet their customer's needs.
Their goal continues to be to offer customers new and exciting varieties of citrus as well as offering those varieties they remember from their childhood. Eric and Kim believe in delivering the very best quality citrus without compromise. Their commitment is to produce great tasting fruit, pick it only when it is ready, and deliver it to the customer in a way that the freshness proves that it is "Ripe to You®".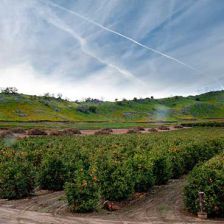 "I believe that the most important thing the farmer can put on his land is his shadow."

Eric Christensen