Perrystead Dairy, Philadelphia, PA
Exceptional American original cheese. Made with love in Philadelphia.
About Perrystead Dairy
Perrystead Dairy is an urban Philadelphia creamery, focusing on exceptional American original cheese. Our award-winning cheese are playful and approachable yet they are the result of patient technically-challenging craft. We only use milk of local PA family dairy farms who practice exemplary sustainable land and animal husbandry practices. Cheese has always been a reflection of nature, season and people. As we preserve cheesemaking traditions our cheese reflect our local conditions, the American melting pot, and living in the most resourceful time in history to be making cheese. Our model is unique as it supports local family dairies while creating an opportunity in our urban community at the same time. It's a positive chain of wellbeing that spans from the soil to crop, to animal and planet, to farmer, maker, community, merchant and consumer. We are Philadelphia's most local cheesemaker!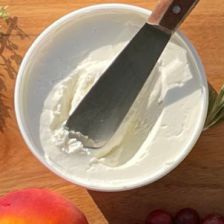 This Is the Real Philadelphia Cream Cheese

Food & Wine
EXPLORE THE WORLD OF BALDOR