Oleamea, Aydin, Turkey
We won't serve our extra virgin olive oil to your family unless we trust it enough to serve it to ours.
About Oleamea
OLEAMEA Organic Extra Virgin Olive Oils are sustainably made in Turkey, relying on the traditions of the land and the artisanship of the local masters, to create an unparalleled yet accessible product that is at the forefront of a healthy, well-balanced lifestyle.
OLEAMEA was founded by Merve and Mert Aydin, a sister, and brother whose family has been producing olive oil in the southwest region of Turkey for generations. Being passionately involved in every step of the production process - from cultivation to harvesting, milling to bottling - we take deep pride in protecting the incredible olive orchards which have not only given life to our product for centuries but have helped the local communities thrive.
Our mission is to produce an exceptional extra virgin olive oil using an innovative production method that maintains the traditional practices of the land and empowers local farming communities to implement sustainable and organic farming practices to ensure you and your family can enjoy a pure, unadulterated extra virgin olive oil.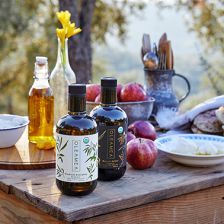 "Growing up in the Mediterranean culture, we wanted to treasure every bit of its healthy and well-balanced lifestyle by creating organic, unparalleled yet accessible products. We cannot wait for you and your loved ones to experience this tradition and share in our celebration by joining OLEAMEA."


Merve Doran, Founder
In Season Now
From Oleamea
EXPLORE THE WORLD OF BALDOR