New York Ravioli and Pasta Company, New Hyde Park, NY
Unique Ravioli Products
About New York Ravioli and Pasta Company
This is where we come from, where we live…it's who we are and what we sell…
Paul Moncada and David Creo are two Italian-American boys that grew up together on Long Island. In their world, Sunday dinner was when families gathered around the table to talk, laugh and share a delicious home-cooked meal. During their college years the two worked in the same Italian restaurant and there began their dream of starting a company to create boutique filled pastas that every family member could enjoy.
Realizing that everyone looks at ingredients and nutritionals these days, Paul and David developed a line of unique filled pastas that are 100% natural, made with finest ingredients, include no additives or preservatives and appeal to adults and children alike.
The company grew by baby steps over the years, initially selling to local restaurants until the demand outpaced the size of their facility. They've since moved into a dedicated facility in New Hyde Park, N.Y. where manufacturing takes place with a retail store attached.
Both men love Long Island to the core and declare the northeast to be the country's heart of the Italian food industry.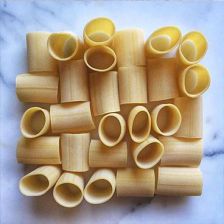 These guys are making the best fresh filled pasta around. They use only the finest ingredients in their fillings and casings and no additives or fillers are ever incorporated; 100% natural and made-to-order for ultimate freshness.

Michele Barricelli, Baldor Category Specialist
In Season Now
From New York Ravioli and Pasta Company
EXPLORE THE WORLD OF BALDOR