Mighty Sesame, Bayonne, NJ
Mighty good on everything!
About Mighty Sesame
Our product is made with only one powerful ingredient, that with care and a sophisticated process, is transformed into the smooth and creamy tahini that you can expect from Mighty Sesame every time. A mighty ingredient indeed, we take our sesame seeds very seriously.

At Mighty Sesame, our 'sesameliers' oversee the delicate and complex process of transforming raw, fair-trade sesame seeds into our delicious products. For over 30 years, the process from the seed cultivation to creating our sesame-based foods has been managed with expertise, refined knowledge and innovation. The palate of an experienced sesamelier can recognize the variety, production method, and suggest improvements to a recipe simply by taste. We constantly strive to innovate our process to benefit your superfood experience.

Our patented grinding process makes our tahini velvety smooth and creamy with less separation and sediment, which produces a higher yield than other foodservice tahini. We take the time to slow roast our seeds to bring out the deep richness and natural nutty flavor of each seed, and our tubs produce a higher yield due to a superior grind that creates better water absorption. That means more creamy, dreamy tahini and more value from each tub.

We source sesame from the most reputed growing region in the world, Ethiopia, and trade sustainably with producers to ensure fair wages for farmers in a win- win exchange for the world's mighty finest sesame.

As always, these power-packed seeds produce a tahini that is rich in plant-based protein, plus vitamins and minerals like calcium, magnesium, zinc and iron, for an irresistible ingredient that is sought after for both taste and nutrition.

Mighty Sesame Tahini comes in 4 foodservice varieties to suit your needs: Classic 1lb jar, Classic 6.6lb Tub, Classic 40lb Bulk tub, and Organic 40lb bulk tub.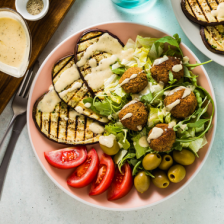 Mighty Sesame has revolutionized tahini in my kitchen!

It's creamy and delicious.

Chef George Duran
EXPLORE THE WORLD OF BALDOR