DemKota Ranch Beef, South Dakota
High quality beef produced by local partners.
About DemKota Ranch Beef
At DemKota, we provide our customers, locally and around the world, with elite products by sourcing our cattle from our neighbors: ranchers and feedlots located in the heartland. We strive for quality in every cut of beef, through sustainable farming, cattle feeding and harvesting practices focusing on animal welfare. The quality comes through in every cut of beef, package and box.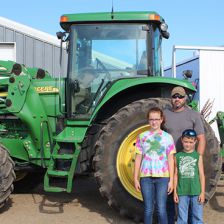 "We strive to provide our customers superior customers service and the highest quality of product available in the industry. Try the product and you will come to appreciate the DemKota Difference."

Todd Landfried - VP of Branded/Export Sales & Marketing
In Season Now
From DemKota Ranch Beef
EXPLORE THE WORLD OF BALDOR