Champlain Orchards, Shoreham, VT
Vermont Fruit. Grown with a Conscience.
About Champlain Orchards
Champlain Orchards is a family owned & ecologically managed orchard overlooking Lake Champlain in Shoreham, Vermont. As one of the oldest continuously operating orchards in Vermont, they take pride in growing over 100 varieties of apples, as well as peaches, pears, plums, cherries, nectarines, and berries. Husband and wife team Bill and Andrea Suhr are incredibly proud to comply with Eco-Apple Certification, which is a holistic approach to sustainable orchard management. Their passion for the trees and the well-being of the orchard and the environment only grows with the yearly increasing harvest and varietal plantings. Over 80,000 bushels of apples are grown in a season, which are not only eaten fresh but also used toward sweet cider, hard cider, pie, donuts, apple butter, and cider syrup production.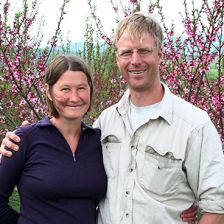 "Although there are huge stresses and we are constantly working to find more balance, we have a huge appreciation for the lifestyle that farming allows for- the time outdoors, the time with plants and trees, and using our hands. We love watching young trees and grafted trees bearing new fruit, it always amazes us!"

Andrea Scott, Co-Owner
In Season Now
From Champlain Orchards
EXPLORE THE WORLD OF BALDOR