Beecher's, New York, NY
Beecher's Handmade Cheese makes foods only with ingredients we trust, are proud of, and would eat ourselves. It's just authentic and original food, full of flavor.
About Beecher's
Located in New York City's Flatiron District and Seattle's Pike Place Market, visitors to Beecher's glass-walled cheesemaking kitchens witness first hand the crafting of their signature favorite, Flagship cheese, as well as many of the other award-winning cheeses Beecher's has to offer. By starting with fresh, pure milk from local farms and applying the traditional methods used by cheesemakers for thousands of years, Beecher's cheeses are free of artificial ingredients making them just as delicious as the milk they are made from.
In 2003, Kurt Beecher Dammeier opened his first Beecher's Handmade Cheese in Seattle's historic Pike Place Market. For Kurt, Beecher's fulfilled an ambition beyond just making great cheese. He has long felt passionately about eating food free of harmful additives and preservatives.
That's why everything produced by Beecher's, from the handcrafted cheeses to the delicious side dishes and crackers, is authentic, original, full-flavored food made with ingredients they trust and are proud of.
In keeping with Beecher's commitment to pure food, Beecher's contributes 1% of all sales to the Beecher's Pure Food Kids Foundation, empowering kids to make healthy food choices for life.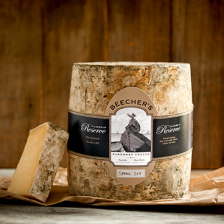 "With Beecher's, we set out to show people that knowing what's in your food is as important as knowing how your food is made. Visitors can watch first-hand that our cheeses come from authentic ingredients, starting with pure, fresh milk, and that these simple ingredients make for delicious, full-flavored foods."

Kurt Beecher Dammeier, Owner/Founder
In Season Now
From Beecher's
EXPLORE THE WORLD OF BALDOR