Bakbel, Seneffe, Belgium
Marmalades, Glazes, Gels, Compounds, Fruit Fillings and Purées
About Bakbel
Bakbel produces fine fruit products for the bakery, confectionery and food service industry. Founded originally in Belgium, the company offers a varied range of high quality products that bring your pastries and desserts to life:
- Delicious, all-natural Marmalades that are bake and freeze-thaw stable.
- Concentrated, all-natural Fruit Compounds for flavoring creams, mousses and sauces.
- Traditional and Ready-to-Use Glazes that give fruits and desserts a beautiful shine while sealing in freshness.
- Fruit Fillings offering a high fruit content.
- Simple one-step fruit mousses with exceptional flavor and innovative packaging.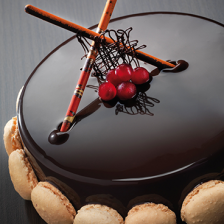 With Bakbel, the possibilities are endless and the flavors are as natural as can be.

The Bakbel Team
In Season Now
From Bakbel
EXPLORE THE WORLD OF BALDOR