More About This Product
The Negi onion is one of the most popular culinary ingredients in Japan, easily distinguished by hollow tubular green tops and elongated stems that never form into actual bulbs. They are mild, savory and sweet, used like green onions, leeks and scallions. Negi onions have a tough texture that allows them to be cooked for long periods and they're also mild enough to eat raw. Negi onions are used to top noodles dishes and hot pot dishes like Shabu Shabu. They're perfect for hearty soups, onion tarts and pot pies and are a great pizza or salad ingredient. You might also try sauteeing them in butter or olive oil and serving as a side dish.
Product Details:

Size: 3 BU
Country of Origin:

United States of America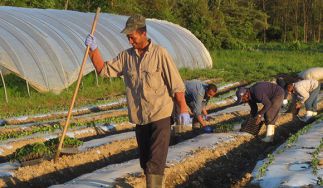 After working in the dairy division at Cornell Cooperative Extension for six years, Zaid Kurdieh and his wife Haifa decided to open their own certified organic farm in 1998. Starting with just a half acre behind their house, their vision of supporting the community has become a reality and now they...
Learn more about Norwich Meadows Farm
Product Unavailable
Select a Substitute item below
NORWICH MEADOWS FARM
Organic Japanese Negi Scallions
ZON97