Operating in the Saco River Valley of Maine and New Hampshire since 1965, Green Thumb Farms is a third generation family farm. The natural minerals in the soil and the ability to irrigate from the crystal clear waters of the Saco River, along with crop rotation, conspire to produce the best frying potato you'll ever taste. They boil nicely yet remain firm for soups, potato salads, home fries and they mash up perfectly fluffy with a melt-in-your-mouth flavor and texture.
Product Details:

Size: 50 LB
Country of Origin:

United States of America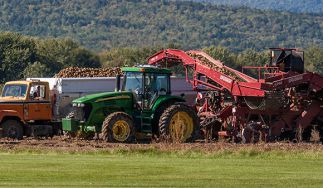 Green Thumb Farms has been farming in Western Maine since 1965. Working on over 2200 acres of rich Saco River Valley soil has firmly established our reputation for quality potatoes, turf, dry beans and corn. Our third-generation family farm strives to preserve Maine's open spaces and...
Learn more about Green Thumb Farms