Developed by Cornell University's apple-breeding program in Ithaca, NY, the SnapDragon was nearly a decade in the making! Perfect for eating out of hand, SnapDragon is argued to be even better than the coveted Honeycrisp. SnapDragon gets it's monster crunch from its Honeycrisp parent and it's spicy sweet flavor from a number apple that isn't for sale. Its harvest window starts in late September and lasts through November.
Product Details:

Size: 50-65 CT
Country of Origin:

United States of America local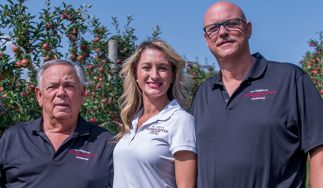 Hudson River Fruit Distributors in Milton, N.Y. is one of the largest apple growers in this region. It was established in July 12, 1963, by Isadore "Izzy" Albinder, along with his son Harold Albinder. Izzy first entered the apple business back in 1932, after immigrating from Russia. He saw an...
Learn more about Hudson River Fruit