From Castroville, CA, home of the country's best tasting artichokes. The edible buds of the thistle plant, fresh artichokes actually squeak when you squeeze them. Some brown spots on outer leaves indicate frosting which does not affect quality. Cut away the top, snip off prickly tips of outer leaves and carve out the fuzzy chokes before soaking in acidulated water. Cook stuffed or unstuffed by steaming or braising. Enjoy the tasty flesh clinging to each leaf by pulling them through your teeth.
Product Details:

Size: 18 CT
Country of Origin:

United States of America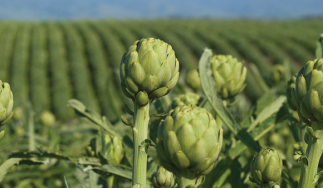 Ocean Mist Farms is one of Baldor's oldest and most trusted purveyors. This family farm has been supplying Baldor with top quality artichokes, lettuces, Brussels sprouts and other fresh vegetable for over 25 years. Ocean Mist Farms is owned by four grower families, headquartered...
Learn more about Ocean Mist Farms