Wells Homestead Acres, Aquebogue, NY
The longest running family farm we know of!
About Wells Homestead Acres
The Wells family has been farming the same land in Aquebogue, Long since 1661 when patriarch William Wells bought his first acreage right on Sound Avenue. Today the Wells family is the longest tenured property owners (355 years!) on Long Island. The farm is split into 3 separate businesses now, with descendants growing different crops within throwing distance of each other.
Cousin Lynn owns one tract of land, cousin Todd Wells cultivates potatoes and corn on another. Lyle started Wells Homestead Acres in 1980 with 85 acres. Though he also grows zucchini, cucumbers, cut flowers, flowering plants and other vegetables, and runs his farm stand with ex-wife Susan, Wells Homestead is most famous for its more than 15 acres of spring asparagus.
The stalks come to market late spring and locals go crazy for it. Wells asparagus possess a profound fresh-green flavor that tastes mineral-y and grassy at once. For many, their appearance marks the debut of the East End farm stand season.
The succulent spears first overlap, then trail the California, Washington, Michigan and Jersey asparagus crop. Thankfully they last through all of June,
Cook these purple-tinged beauties briefly; you won't need to peel the tender stalks at all and only need to snip a bit off the root end.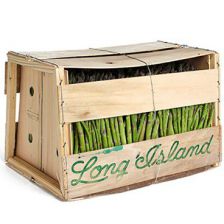 Eatmor Asparagus.

Lyle Wells