Weiser Family Farms, Bakersfield, CA
Where potatoes really are their "meat and potatoes."
About Weiser Family Farms
Weiser Family Farms began in 1977 when Sid Weiser, a chemistry teacher and counselor at a Los Angeles school, decided to pack up the family and follow his dream of working off the land. They laid down roots in Tehachapi, California and learned to tend fruit trees . . . apples, peaches, and pears, eventually branching out into a variety of fruits, vegetables, and flowers.

In 1982, their son Alex jumped in to assist the family in selling at local Farmers' Markets. There, he encountered chefs, the public, and specialty produce buyers who wanted seasonal, high quality and superior tasting produce. Alex began to focus on creating a bio-diverse farm dedicated to applying sustainable farming techniques and supplying people with unique fruits and vegetables at their peak. Older brother Dan and sister Esther joined the family business in 2001, bringing their respective business backgrounds into the mix.

Founder Sid laughs when he recalls accepting the gracious act of a neighbor offering to plant some potatoes that year. At the height of the season, realizing he had no way of harvesting the below-ground crop, he put a sign out in front of the farm inviting customers to Dig-Your-Own. Weiser Farms now grows a rainbow of potatoes ranging from sturdy, nutty classic Russian Banana fingerlings to pigmented Red Thumbs and creamy Satinas.

Today, Weiser Family Farms grows in Tehachapi and the Greater Bakersfield area, while staying true to their roots of growing heirloom and hard-to-find specialty produce year-round. Fall and winter bring colorful root vegetables and squashes, while springtime produces fresh radishes, spring garlic and onions, and more. But summer is when they really shine - it's the season for their now famous-among-the-chefs variety of melons. The difference lies in letting the fruit naturally ripen while still on the vine, then harvesting when they're at the peak of their sweetness.

They sell at several Los Angeles area farmer's markets including Beverly Hills, Hollywood and Santa Monica.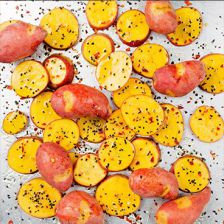 Weiser Family Farms is, and has always been, a family farming entity in the true sense of the word. When you buy from our family, you are truly buying from our family. You can count on us to put as much care and effort into serving you as we do in selecting and growing our unique, locally grown produce.

Weiser Farms Team
In Season Now
From Weiser Family Farms
EXPLORE THE WORLD OF BALDOR