Terra Firma Farms, Winters, CA
Growing the highest quality and best tasting products we can for our family and yours.
About Terra Firma Farms
Terra Firma Farm is one of Northern California's premier organic farms, producing year-round fresh fruits and vegetables in a unique agricultural region located west of Sacramento and northeast of San Francisco. They use regenerative farming practices including cover cropping, livestock grazing, and minimum tillage that build the soil over time while producing the highest quality food available. While they grow over 50 different fruits and vegetables, their primary summer crop is heirloom and artisan tomatoes. During the rest of the year they strongly emphasize easy-to-peel citrus, fresh aromatics such as leeks and spring onions, gourmet leafy greens, and specialty root crops. Terra Firma farm has been certified organic for thirty years, growing during that time from 2 acres to 200. The farm is managed by its owners Hector Melendez and Paul Underhill, whose combined 50 years of fresh produce experience have built on the foundation established by founder Paul Holmes back in the late 1980s. Terra Firma always strives to work with organizations that promote small farms and educate the public about the importance of supporting them.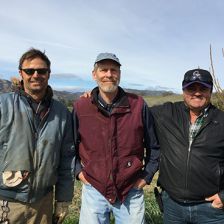 "We are lucky to have great conditions for tomato growing here in California. The warm weather allows for an especially early start to the tomato season."

Terra Firma Team