Masumoto Family Farm, Del Rey, CA
We grow stories with our organic fruit.
About Masumoto Family Farm
Masumoto Family Farm located in Fresno County, the Central Valley of California, has seen four generations work the same soil. We revere the stories of farming, place, and food. We strive to honor family, hard work, resilience, and ecology keeping each of these alive on our farm and in our work. We hope each organic peach, nectarine, apricot, or raisin that leaves our farm travels to an eater and with each bite, creates a powerful memory of flavor.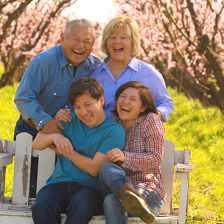 "Sun Crest is one of the last remaining truly juicy peaches. When you wash that treasure under a stream of cooling water, your fingertips instinctively search for that gushy side of the peach. You bite and the juice trickles down your cheeks and dangles on your chin. You make sure to lean over the sink so that you don't drip on yourself. This is a real bite, a magical sensory celebration announcing that summer has arrived."

David Mas Masumoto