Lekka Burger, New York, NY
Made by a chef in a kitchen, not in a lab.
About Lekka Burger
Lekka Burger is the popular plant-powered burger spot in NYC from award-winning vegetable-focused chef Amanda Cohen and South African social impact entrepreneur Andrea Kerzner. Combining chef Amanda's 25+ years of experience cooking delicious vegetables with Andrea's extensive hospitality background and commitment to fighting climate change, Lekka's mission is to bring delicious, chef-made plant-based burgers to diners everywhere.
The Lekka Burger patty is made with ingredients that can be found in any home-kitchen (nothing processed or grown in a lab) like canellini beans, mushrooms, seasonings and spices. The special Japanese-style soy milk buns are a house-made recipe, and complement the juicy burger perfectly. Meaning "awesome" and "delicious" in Afrikaans slang, Lekka is a celebration of Amanda's innovative cooking coupled with Andrea's roots and passion for sustainability.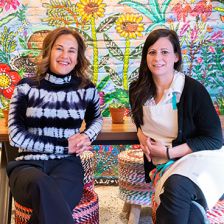 "Lekka's masterful patties are a superb addition to the burger community."

Ryan Sutton, Eater Restaurant Critic