Latham Farms, Orient, NY
Long Island Local Legend
About Latham Farms
The Latham family has been farming the extreme tip of Long Island, New York since the late 1700's. With a mere 220 years of family-farming experience under their belts, the Latham family continues to grow some of the finest produce found anywhere. About 105 miles from New York City, the farm is spread out over 160 acres today. The farm is literally situated just a few feet away from the cool waters of the Long Island Sound. Though, not certified organic, Dan uses IPM (Integrated Pest Management) methods-whereby he uses minimal chemical intervention in the field, and only when absolutely necessary. Generations of care for their land have left the Latham's with a nutrient rich soil. And smartly, the fields are also rotated regularly to allow for mineral replenishment. Blessed by its seaside location, the farm maintains it's own micro-climate allowing for a long growing season.
They grow over 40 varieties of fruits and vegetables throughout the year, all of it field-grown and excellent. The standout crop at Latham is the sweet corn. Long Island grown corn is arguable the finest in the United States.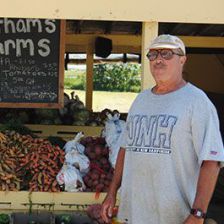 Nestled between the Long Island Sound and Gardiners Bay, our farm fields stretch from shore to shore, soaking in the salty goodness of the air. The relaxed atmosphere, combined with the irresitable fresh, NATIVE produce, makes us a top destination for food-lovers all over Long Island and NYC.