Iacopi Farms, Half Moon Bay, CA
A third-generation farming family specializing in legumes.
About Iacopi Farms
Since 1962, father and son team Louis and Mike Iacopi have been farming 200 acres in the cool, seaside town of Half Moon Bay. A three-generation farming family originally from Lucca Italy, they are best known for their fresh shelling and dry bean varieties including Italian Butter, Cranberry, Borlotti, Gigante and
Cannelini. These heirloom varieties were brought to California in the 1930's by the family's patriarch, Michele Iacopi, and are cherished by some of the most prominent restaurants in Napa, Sonoma and San Francisco counties. Iacopi Farms also grows fava, Blue Lake and Romano Beans, English peas, sugar
snaps, Swiss chard, kale and broccoli.

Father and son take pride in using farming methods that are responsible with California's scarce water supply. Half of what Iacopi Farms grows is "dry farmed" meaning it is grown without any water. The natural moisture of California's foggy coast, combined with special soil tilling techniques, enables them to
grow much of what they plant with little or no irrigation. They use both mechanical and hand cultivating methods to promote healthy soil nutrition. Most crops are harvested by hand, enabling Iacopi Farms to filter out imperfections and select only the highest quality produce.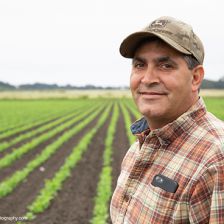 "I've always enjoyed working the soil, nurturing our plants and watching them grow. I genuinely love what I do, and I'm rewarded knowing that I'm feeding people with good food."

Mike Iacopi