Hummingbird Farms, Ridgely, MD
FRESH from the vine!
About Hummingbird Farms
Jennifer Sturmer originally studied biology when she was a student at Tufts University. Farming hadn't even been a consideration when she was approached by a business partner with the opportunity to run a hydroponic tomato greenhouse. She says opportunities like these don't come by often, so she jumped at the chance. It worked out that her natural curiosity as a biologist would lend itself perfectly to what she calls, "A huge experiment that really matters."
Sturmer and her husband produce two crops of tomatoes each year using hydroponics at Hummingbird Farms in Ridgely, Maryland. "Everything is done by hand," she says, from picking the tomatoes to packing them. The tomatoes at Hummingbird, Sturmer says, are picked ripe the same day they are put on the trucks to be shipped to grocers across Maryland, at stores such as Giant, Whole Foods, Roots & Grauls.
Her customers seem to appreciate this level of detail and dedication. Sturmer says that she has received phone calls from happy Marylanders who want to express their thanks for such a superior product that also allows them to support the local economy.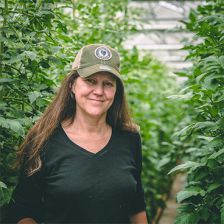 "We try to have the BEST tasting tomatoes in the off-season!"

Jennifer Sturmer