Hawthorne Foods, Hudson, NY
Wild flavors, farm fresh ingredients
About Hawthorne Foods
Two decades ago, our first sauerkraut bubbled into being in Hawthorne Valley Farm's cellar. Since then, we have dedicated ourselves to the art of fermenting wildly delicious, ready-to-eat vegetables in the Hudson Valley, using business as a force for good. Our jarred vegetables elevate dishes into something more flavorful, colorful and alive – with just a simple spoonful.
But our story starts long before the jar, in the dirt. Our vegetables are often grown regeneratively, by organic family farm partners we purchase from directly. These stewards of the land nurture their living soil to grow the best vegetables possible, which become the nourishing foundation of our probiotic products.
We work to do the right thing. From reinvesting 1% of sales back into our small organic family-farm partners to becoming a B Corps and providing living-wage jobs in our community, we believe that our humble vegetables can help brighten the world.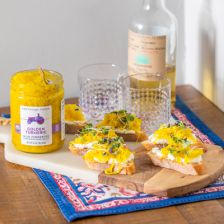 Our vegetables are grown by organic family farm partners we purchase from directly. These stewards of the land nurture their living soil to grow the best vegetables possible, which become the nourishing foundation of our delicious wild fermented products.

Kristopher Marx, CEO
EXPLORE THE WORLD OF BALDOR