Hari & Co, Lyon, France
Good for you and for the planet!
About Hari & Co
At HARi&CO, we are HUNGRY TO CHANGE THE WORLD!
Our mission? Initiate a revolution in our diet: healthier and more sustainable, therefore more plant-based. By reviving the appetite for organic legumes and integrating them into wholesome meals in new and original ways, we benefit both our bodies and the environment.
Enjoy all the foods you love - from healthy salad bowls to veggie burgers and fries - with our vegan and organic patties and balls! They are all GMO-free, additive-free, and rich in plant-proteins and fibers. HARi&CO's veggie burger/balls are a healthy and gourmet alternative to meat, without sacrificing taste!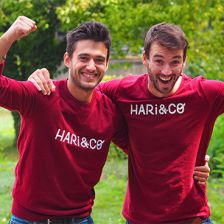 "We truly believe that a sustainable, plant-based diet can be delicious! We are passionate about creating tasty recipes made from legumes and organic ingredients that are good for the people and the planet."

Benoît & Emmanuel, Co-founders of HARi&CO
In Season Now
From Hari & Co
EXPLORE THE WORLD OF BALDOR