Forma Pasta Factory, Brooklyn, NY
It's all about the pasta!
About Forma Pasta Factory
When thinking about the kind of restaurant we wanted to open, we decided early on that our goal was to introduce a new concept to the food scene. We knew the business we were in was hospitality, our concept needed to be novel, and the product or food we sold needed to be something you couldn't find elsewhere. After much research and hard work, we set our eyes on developing a fine casual restaurant, Forma Pasta Factory. Forma's modest roots began to grow in the basement of a Brooklyn brownstone. From the very beginning, our goal was to bring fine dining to the masses. We decided the food served at Forma would be the same quality found in fine dining; the price point wouldn't be as cheap as fast food, but cheaper than fine dining, and the speed at which patrons received their food wouldn't be as fast as fast food, but certainly faster than fine dining. We believed everyone deserved to savor delectable pasta, crafted by hand, and cooked to perfection by a skilled chef. Essentially, we wanted to take food everyone knew, pasta, and cook it better than anyone ever knew it could be cooked. We felt strongly about there being a dish for everyone on our menu and chose to offer gluten-free pasta/dishes, vegetarian, and vegan options. We were committed to maintaining the highest standards with regard to the presentation, taste, and consistency of our food.
We take great pride in every dish on our menu and utilize only the very best, high-quality ingredients because that's what we feel our customers deserve. All of our pasta is made in-house either by hand or using an extruder shipped from Italy, which has been thoughtfully placed near our entrance to allow our patrons to be part of the pasta-making experience. We've worked diligently to serve high-end food without the elitist feel. How do we offer such food at a fraction of the price? We ask our customers to order with a cashier, seat themselves and clear their place when they are done. Runners happily bring food to each table, but ordering with a dedicated server is not part of our model. That said, our kitchen is staffed with professionals who've worked in fine dining, among other establishments, and have the skill sets necessary to perform on a consistent basis and produce food we are proud of. In partnering with Baldor, we are excited about the opportunity to bring our food to customers in a new way and hope it is enjoyed by all.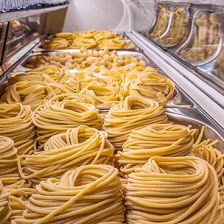 "Enjoying expertly crafted pasta should not be a luxury; after all, it's made from flour and water. We simply cut out the bullshit and added a whole lot of love."

Chef/Partner Amit Rabinovich