D'Ottavio Farms, Minotola, NJ
First growers, now packers and truckers as well – a fully integrated produce company started by one man.
About D'Ottavio Farms
This south Jersey farm first opened in 1903 when immigrant Callie D'Ottavio cleared his first 40 acres with horses and dynamite to grow sweet potatoes and broccoli. In 1953 sons Ronald and Art took over and started diversifying with cabbage, romaine, endive, lettuces and many other vegetables. By then the farm was about 100 acres cultivating over 27 different crops.
Today grandson Mike D'Ottavio has expanded M. D'Ottavio Produce into one of the largest and most respected wholesaler/grower/shipper in southern New Jersey.
Mike D'Ottavio continues to grow and refine his product line and farming methods to meet the demands of today's environmentally conscious consumers.
The company is proud to be in its second year with PrimusGFS, a private system that establishes requirements for the certification of products of the agricultural sector in a voluntary manner at a worldwide level.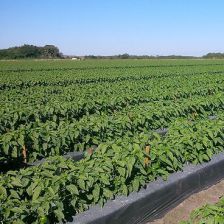 I believe our history and knowledge is what gave us the advantage to make our business what it is today.

Mike D'Ottavio