Cutler Cove, Maine, USA
Ocean-Raised Atlantic Salmon, Straight From The Heart Of Maine.
About Cutler Cove
Along the seacoast of Maine, surrounded by inlets, islands, coves, and bays, you can find Cutler Cove Salmon. High tides, powerful currents, and icy-cold, nutrient-rich waters are nothing short of magical. That's why we raise our salmon here, and nowhere else, under the watchful eye of dedicated men and women whose families have carved a life by the sea for generations. The result is a product that is renowned for its firm texture, optimal fat lines, exceptional flavor, and made-in-America freshness.
Cutler Cove Salmon represents the best of Maine. It's where traditional expertise and an unparalleled natural environment come together with innovative thinking and well-founded practices. From strain selection to the hatchery, ocean conditions to feed quality, and harvest to delivery, we believe in the highest quality processes, people, and products. Cutler Cove Salmon is four-star BAP certified, raised without the use of antibiotics, and delivered fresh, never frozen.
Our best quality? Our obsession with quality. Being the only fully integrated BAP four-star certified salmon producer in North America allows for complete control over product quality, ensuring excellence at every stage from egg all the way to plate. It's a process our customers can count on to deliver some of the finest Atlantic salmon in America.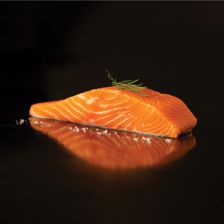 "We believe when we cultivate the ocean with care, it allows us to nourish the world, provide for our families and create stronger communities." - Dave Morang, Maine Farming Manager.

Cutler Cove Team
In Season Now
From Cutler Cove
EXPLORE THE WORLD OF BALDOR