Chip-In Farm, Bedford, MA
An Old Fashioned Country Store
About Chip-In Farm
Chip-in Farm was established in 1944, when Hendrick and Thelma Couvee, along with their son Herbert, "chipped-in" to purchase a former dairy farm on Hartwell Road. The family moved from Belmont with their WWII "Victory" flock of 35 hens. Over time the farm was expanded to house more than 18,000 birds.
For over 30 years, the farm was known for its door to door delivery of fresh eggs to surrounding communities. Eggs and other farm products were also sold on premises using the honor system.
Now into its fourth generation, and operated by Herbert's two sons, the farm has evolved into a farmstand/general store with a unique country atmosphere. We still sell eggs from our free-running hens, along with a variety of groceries, dairy products, seasonal items, and our own organically grown produce.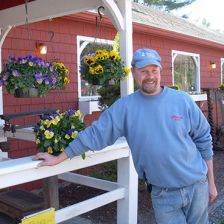 We are a fourth generation, family owned and operated farm, providing our customers, since 1944, with the freshest, best tasting eggs, from our cage free hens.

Chip-In Team