Baldor Kitchen, Bronx, NY
Delivering restaurant quality ingredients & recipes, right to your kitchen.
About Baldor Kitchen
The newest venture out of Baldor Kitchen: Meal Kits. These five recipes went through extensive conceptualizing and testing to make sure we're delivering the best dinners-in-the-making to your home. The first criteria? Each one needed to highlight a different gorgeous variety of produce, herbs, or citrus. Two are meat focused (Cavatelli with Chicken Sausage & Broccoli Rabe Pesto and Hanger Steak with Chimichurri & Potatoes) and one features seafood (Shrimp Tacos with Mango Salsa + Fire Roasted Corn). They all come to life thanks to vegetables and herbs (and the easy to follow instructions). They're quick to prepare (some require a stay in the oven) and require, in addition to what we've sent you, only a handful of staples that are most likely already in your pantry. Happy cooking!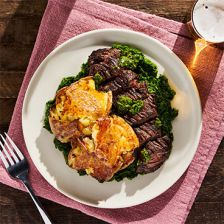 "These are delicious, easy recipes with restaurant quality ingredients that are priced right for a meal at home."

Barry, Culinary Manager