Atlantic Sea Farms, Biddeford, ME
Good food should do good. Women-run, mission driven, and sharing award-winning kelp products from Maine.
About Atlantic Sea Farms
Atlantic Sea Farms is a women-run, mission driven, vertically integrated, regenerative kelp aquaculture company based in Maine. We are dedicated to making a powerful and positive impact on the health of our customers and oceans by creating craveable and innovative products made from sustainably farmed sea greens, all while expanding opportunities for coastal communities.

Founded as the first commercially viable kelp farm in the US, Atlantic Sea Farms shifted gears under the new leadership of Bri Warner in 2018. With Bri at the helm, we recognized that kelp aquaculture is uniquely positioned to be a solution for three problems. First problem: over 95% of the seaweed eaten in the US is grown overseas, often in compromised waters with questionable labor practices. It's then dehydrated, shipped, rehydrated, and pumped full of dyes and preservatives. Second problem: the food we eat is increasingly extractive and carbon intensive, depleting our earth and oceans. Third problem: the Gulf of Maine is warming faster than 99% of oceans worldwide and relies on one singular wild fishery, the lobster.

So how can kelp help?

First, Atlantic Sea Farms kelp is grown in the clean, cold waters of Maine by independent fisherman farmers. That means high quality, delicious, fresh sea greens with a bright and briny taste and tender bite that is never dyed (because seaweed salad shouldn't be the ectoplasm green, ever).

Second, kelp aquaculture is regenerative, meaning it leaves the ocean healthier with every harvest. Kelp requires no arable land, pesticides or herbicides to grow. You don't even have to water it! Kelp aquaculture locally mitigates effects of ocean acidification, and pulls carbon and nitrogen from the water column, improving the health of shell bearing organisms. Kelp aquaculture is carbon negative and an incredibly efficient crop. We think it just may be the perfect food!

Third, Atlantic Sea Farms identifies, and works with, lobstermen and women throughout the coast of Maine to diversify their ocean-based businesses into kelp aquaculture, which is proving a viable way to stave off the effects of climate change on our local economy. We drive a market on their behalf by developing delicious, innovative kelp products that chefs and consumers are excited to incorporate into their menus and everyday diet. By building a close community of partner fishermen farmers here in Maine, we are working with talented people who possess and unmatched understanding of working on the water. In short, lobstermen make darn good kelp farmers!

Today, we work with 27 partner farmers, representing 9 working harbors in Maine to supply over 80% of the cultivated seaweed in the country. This effort is making high quality, domestic seaweed with the highest food safety standards available at scale for the first time in the US, while also providing a sustainable way for independent fishermen farmers to continue to work on the water for generations to come.

We're excited to collaborate with more chefs and product developers to make Atlantic Sea Farms kelp an ingredient that they are excited to champion and share. Kelp truly is a super superfood!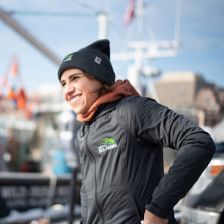 "Every time our kelp goes into a new dish or is purchased at the grocery store, we're making a major positive impact on our food systems, and for coastal livelihoods. Our goal is to make regenerative, sustainable kelp aquaculture something that everyone wants to get behind because it's yielding a delicious crop and because it's the right thing to do. We all need to be better at supporting independent family farms, and have to make our coastal communities more resilient in the face of climate change. Kelp accomplishes both of these things. And it's tasty!"

Jesse Baines, CMO and proud member of a fishing and kelp-farming family
In Season Now
From Atlantic Sea Farms
EXPLORE THE WORLD OF BALDOR