Akua, Cotuit, MA
Revolutionary Meat Alternatives Made From Regenerative Ocean-Farmed Kelp & Whole Foods!
About Akua
AKUA produces the world's most delicious, nutritious, and sustainable plant-based meat and seafood alternatives from regeneratively ocean-farmed kelp, sourced from U.S.-based ocean farmers.
In 2020, we made a bet that the most popular meat-alternative products on the market (at the time) would soon fall out of favor as consumers realized that they were made from unhealthy ingredients like GMO soy, cultured dextrose, chloride, lecithins, methylcellulose, xanthan gums, dyes, and artificial flavors. Instead, we chose to create a plant-based burger from planet-saving, ocean-farmed kelp - a regenerative food source that's making waves for its positive climate impacts.
AKUA sources 100% of its kelp from U.S.-based ocean farmers, who grow kelp without fertilizer or pesticides, and without land or fresh water - our two most taxed planetary resources in our food system. What's more, is that as kelp grows it sequesters vast amounts of CO2 and nitrogen from our seas, helping to mitigate the effects of ocean acidification.
In addition to kelp, AKUA creates its products with healthy, nourishing ingredients like Monterey-grown mushrooms, quinoa, chickpeas, and extra virgin olive oil. The result is a veggie burger made from plants that packs an umami punch so delicious, nutritious, and sustainable that retailers and chefs across the nation are upgrading their "fake meat" menu options with AKUA's Kelp Burger.
In 2021, following a record-breaking Republic campaign, AKUA launched the world's first Kelp Burger, followed by the world's first kelp-based Ground Meat and kelp-based vegan Krab Cakes. AKUA's Kelp Burger is now sold in over 800 grocery stores, to 30+ restaurants, and to thousands of online customers across the U.S.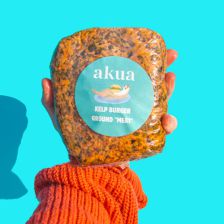 I was prepared to come up with a nice response after

eating this, but actually, it's really rather delightful.

It's incredibly delicious. Well done.

Sir Richard Branson
EXPLORE THE WORLD OF BALDOR