Artisan lettuce is a select seed variety chosen for superior flavor, quality and color. It includes a colorful trio of unique whole head lettuce varieties in both red and green. Petite Oak heads are broad with ruffled leaves and a soft, full texture. Petite Gems are dense, compact heads with wide leaves, a crunchy texture and sweet flavor. Petite Tangos are tight heads with incised ruffled leaves that have a sharp, intense, lightly spicy taste. They look stunning on the plate and the mix of textures keeps Artisan lettuce from wilting when dressed.
Product Details:

Size: 6 X 4 CT
Country of Origin:

United States of America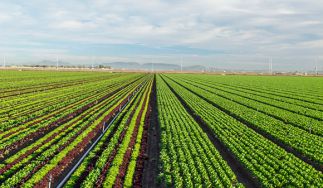 Founded in 1982, Tanimura & Antle is an employee-owned family farming business with a four generation legacy and a passionate commitment to growing premium quality produce. Built on a partnership between two families, with a shared commitment to always value employees as its greatest asset, the...
Learn more about Tanimura & Antle