Urbani, New York, NY
Providing the world with the rarest of delicacies…
About Urbani
When Americans were just discovering the magic perfume of fresh truffles back in the 1980s, the Urbani family had already been renowned truffle hunters for over a century.
Carlo Urbani started the company in 1850 and his descendants grew the business into one of Italy's leading companies. The family wrote the playbook for hunting and transporting fresh truffles; grandsons Paolo and Bruno Urbani were the first to successfully deliver the fragile and highly perishable item into the hands of truffle lovers worldwide.
Today, the company is still owned and operated by the Urbani family. The standards of excellence that Carlo set over a century ago continue to define every truffle product the company makes. Urbani's truffle oils are infused with real truffle for a delicate, refined flavor that won't diminish over time the way that other brands do. Their truffle butters are rich, smooth and generously riddled with black truffle bits.
The Urbani Truffle Museum and Urbani Accademia del Tartufo are bastions of truffle education located in Perugia, Italy. The museum celebrates the history of truffle excavation and the achievements of Carlo Urbani himself. The academy is a modern gastronomic and technological center, attracting chefs from all over the world who want to further their truffle education, share ideas and experiment with truffle recipes and new products.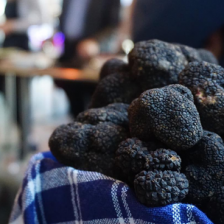 All over the world, the word for truffle is Urbani.

Paolo Urbani
In Season Now
From Urbani
EXPLORE THE WORLD OF BALDOR