Certified Humane Raised and Handled and 100% cage-free. Birds are fed a completely organic non-GMO diet that is all vegetarian. In addition these hens are antibiotic free and have the ability to nest, perch and dust bathe inside or out of their barn. Happy hens produce tastier eggs - these have a slightly darker colored yolk and less runny consistency. They taste delicious, rich and farm-fresh.
Product Details:

Size: 15 X 1 DOZ
Country of Origin:

United States of America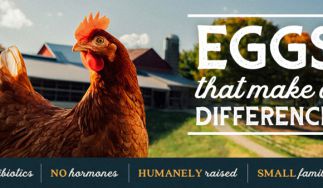 CMC Food, Inc is the parent company of The Farmer's Hen brand of fresh shell eggs. CMC is a 2nd generation, family owned and operated company. We specialize in Free Range, Organic, and Pasture Raised fresh shell eggs. The Farmer's Hen is focused on the sustainability of small, local family farming...
Learn more about The Farmer's Hen