Noah's Pride, Manheim, PA
Lancaster County Fresh
About Noah's Pride
From standard white eggs to brown and organic, Noah W. Kreider & Sons is the source for all your high-quality, fresh shell-egg needs. We have a variety of egg packaging in pulp, foam, plastic and bulk tray packs and offer our Kreider Farms or Noah's Pride branded sku's in private-label programs for larger accounts.
Our standard white and brown eggs are produced in modern caged housing systems that provide our birds with more space and better ventilation. All steel housing and daily manure removal provides a super clean, fresh environment for our hens, resulting in healthier and happier birds. Plus, our brand new, modern cage free and organic facilites are some of the best that the industry has to offer.
Located in the rich farmland of Lancaster County, PA, Noah W. Kreider & Sons is geographically positioned to service our customers from Virginia through New England.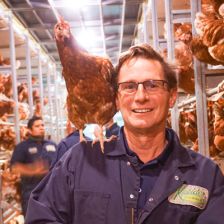 On behalf of my family and our team of dedicated employees, we want to take this opportunity to introduce our family heritage and Lancaster County farming cultures dating back to the early 1700s. We live by a simple mission which has served us well and which will continue to guide our company into the future.

Inwardly we follow our mission and family set of principles. Outwardly we are dedicated to service and extend our greatest gratitude for all of our customers. Thank you for your past and continued support of Kreider Farms.

Ron Kreider, 3rd Generation, Chairman
EXPLORE THE WORLD OF BALDOR