The Farmer's Hen, Fanwood, NJ
High Quality Eggs Produced by Hens Living in Top-Notch Conditions
About The Farmer's Hen
Our search for tasty eggs raised by responsible local dairies led us to The Farmer's Hen in Fanwood, N.J., a family owned and operated egg provider.
All their chickens are Certified Humane Raised and Handled and 100% Cage Free. One visit to the main facility told us what we really needed to know. The hens mill about on one level in a huge barn with a swinging door that gives them access to the outdoors anytime. They have the ability to nest, perch and dust-bathe inside or out.
These birds are fed a 100% organic non-GMO diet that is all vegetarian. The organic chicken farms within this group are all small and family-owned in the New Jersey/Pennsylvania area. They nurture healthy, chemical-free soil that produces high-yield crops for their hens.
The Farmer's Hen birds are hormone and antibiotic free. On our most recent visit we noted that the chickens actually look happy and healthy. Their feathers are clean and fluffy, not picked at or matted down which are indications of overcrowding.
It's just a fact - happy hens yield tastier eggs. Farmer's Hen eggs have a slightly darker colored yolk than generic eggs and a less runny consistency. They taste delicious, rich and farm-fresh.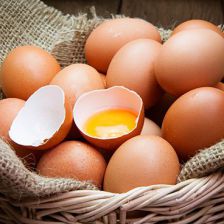 We stand behind every egg we sell, and they're all born in the USA.

John Lombardi