Sanguinetti Family Farms, LINDEN, CA
A gorgeous compliment to any ingredient.
About Sanguinetti Family Farms
Many people around the world consider walnuts from small town of Linden, CA, just outside of Stockton, to be the best walnuts in the world. Linden, CA is where the Sanguinetti family has been farming for four generations! The San Joaquin valley is the perfect place to grow walnuts. These heart-healthy nuts are cultivated over a huge expanse - from Red Bluff in Tehama County in the north to south of Visalia in Tulare County, with many weather micro-climates in between. Growing the best tasting red walnut has been accomplished by breeding a Persian Red Walnut with an English Walnut. The outer shell is beige like any other walnut but conceals a sweet nugget of meat that is scarlet-red.
Red walnuts must be handled very carefully to retain their natural blush which is what the Sanguinetti family does best. They take great care to maintain the beautiful red layer between the shell and the nutmeat and pack them with precision. A non-GMO, Kosher certified variety, their specialty red walnuts boast a uniquely creamy, nutty flavor without the bitter, mineral-y traces traditional walnuts often display. Red walnuts are still rare and supplies limited. They are harvested early fall and last only through the season.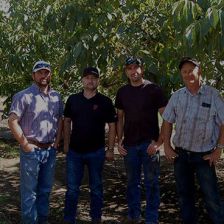 When you see their vibrant purplish-red color, you would swear they had been dyed (like they sometimes dye pistachios). The color actually comes from their red-skinned Persian parentage. With closed eyes, these large walnut halves taste just like a very fresh, crisp version of the brown English walnuts we're familiar with, but they're so festive for parties – especially in nut mixes, salads, brittles, barks, breads, and in other baked goods.

Food & Wine Magazine