San-J, HENRICO, VA
BOLDNESS ENDURES
About San-J
In 1804 Mie, Japan, the Sato family boldly left their shipping business in the three rivers province to start a Tamari soy sauce company that thrives there to this day. Family tradition, Japanese cuisine philosophy, coupled with the inspiration from the hippie generation in the U.S., the family decided to introduce America to the flavor of Japanese Tamari. First importing Tamari to Natural and Asian grocers in the U.S. the business grew so that in 1987 the first U.S. San-J facility opened in Henrico, VA. Now expanding this location, it was chosen because of its similarity to Mie. Boldly moving towards the future again in a new country, San-J continues to embrace traditions and honors the memory of their origin at the three rivers by representing them with the three bars in our logo.

Eight generations later the Sato family faithfully continues the mastery and tradition of Japanese fermentation methods and brewing of tamari. San-J is proud to be a trusted tamari soy sauce brand in the marketplace today.

San-J Tamari Gluten Free Soy Sauce is made with 100% soy and no wheat for a richer, smoother taste. The Soybeans we use are all Non-GMO project verified sourced from the USA and Canada. It is brewed up to six months with no artificial preservatives, colors or additives. It is certified gluten-free, Kosher, Vegan, Non-GMO Project verified and FODMAP Friendly.

San-J also produces an Organic Shoyu soy sauce, nine flavors of Asian Cooking Sauces, an a line of flavored Tamari-Tamari Splash which are also certified Gluten Free, Kosher and Non-GMO project verified. Sam-J Gluten Free Brown Rice Crackers and Gluten Free Soups are all made using our own Tamari as an ingredient. San-J now offers a soy sauce alternative that is free from soy and other major allergens. It is also certified gluten free, vegan and Non-GMO. Brewed with peas, San-J No Soy Tamari has a delicious umami-rich flavor that tastes like soy sauce.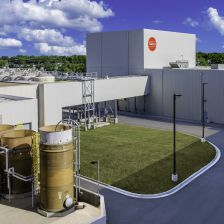 At San-J, Boldness Endures for eight generations, my family has been obsessively stubborn about perfecting the bold flavor of real soy sauce, brewing over 200 years of unfailing exploration into every bottle.

Takashi Sato, President of San-J
EXPLORE THE WORLD OF BALDOR