Intergrow Greenhouses, Ontario NY
Growing the best tomatoes! Today. Tomorrow. Together.
About Intergrow Greenhouses
In the early 1990s, two Belgium and two Dutch friends recognized the growing demand for greenhouse grown produce being imported to the US. With a plethora of knowledge around farming indoors and knowledge of the emerging demand, they set out to open their own greenhouse in North America, eventually settling in Upstate, NY due to the climate and proximity to the market, Intergrow Greenhouses was born.
To this day our company remains a private venture between these 4 friends. Dirk Biemans, Mario van Logten, Dirk van den Plus, John Vermeiren own and operate this growing business together. Today we're the leading greenhouse grower in the Northeast and our greenhouses allow us to grow produce closer to our consumers, 365 days a year. This enables us to vine ripen all of our tomatoes, resulting in the absolute best flavor imaginable!
We're proud to be a local employer of over 300 New Yorkers. Not only is our product the freshest it can possibly be, but it's also directly contributing to your neighboring communities.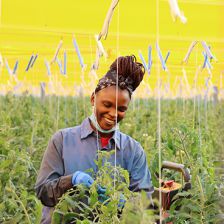 "Our product is picked packed and shipped out the door within 24hours, and with average transit times of 6 hours or less, it really is the freshest produce possible!"

Dirk Biemans - Owner