Earth Week Spotlight: Sustainability Superstars
Respecting our planet, honoring our community, and constantly looking for ways to improve the future are woven into the fabric of who we are and what we do at Baldor, and we're lucky to have so many customers and partners that share the same values. Even during a year as tough as 2020, we were able to team up with organizations like City Harvest, the Food Bank of New York, and more to help bring over 5,000 pallets of surplus food to members of our community who were facing food insecurity at the beginning of the COVID-19 pandemic. Even through the toughest days, our chef friends, customers and partners continuously found opportunities to help their neighbors and environment, and we were both honored to work with them and inspired by their commitment and generosity.
In honor of Earth Month, we've turned to our friends in the culinary world that have inspired us this past year -- true Superheroes of Sustainability, from chefs and restaurants with sustainability missions at their forefront to pioneers advocating for food security -- to spotlight their amazing efforts, to find out what's most important to them, how their initiatives have evolved and transformed, and what they see on the horizon as the world continues to reopen. Read on, below, to learn more about the impressive strides they're taking to make a difference!
Chef Jes Bengtson
Regional Executive Chef, Terrain Cafe & Amis Trattoria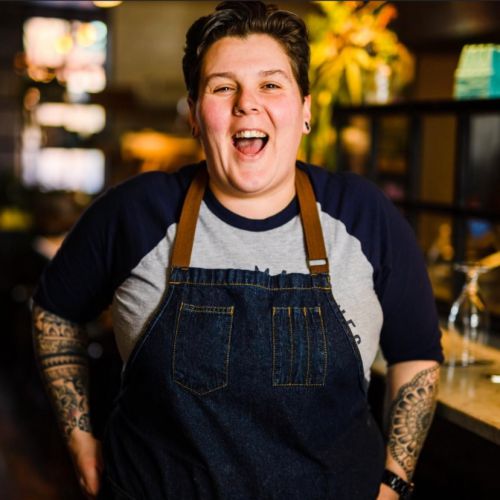 Tell us about yourself!
I've been with URBN [Terrain's parent company] for 5 years and have been cooking for 17 years total. I started cooking at 16 years old in Rhode Island, where I grew up, at a seafood shack. I was hired as a cashier, but on my first day, the owner asked if I would cook. From then on, I worked my way through the industry as a dishwasher, a line cook, and a sous chef before I was offered the Executive Chef position at Granola Bar. After that, the opportunity at Terrain popped up, and I've been here since.
I started really thinking about sustainability after becoming friends with the director of the Westport Farmers Market, who one day asked me, "How are you taking care of the world around you?" I focused on what I was serving and how it affects, not just our customers, but our community.
I also became involved with Food Rescue, and I'm proud to have served on their Board of Directors for the last two years. I started doing Food for Behind the Lines [a grocery box donation program] during COVID, and that's how I got connected with Baldor.
What is your sustainability philosophy?
Two words: just try. Big change over time only happens when you start by making small changes today, and that's what I brought into the kitchen at Terrain. Here's an example: restaurants often use a lot of disposable quart containers, and a couple years ago, I invested in washable, reusable quart containers. Even though it was investment at the time, we no longer worry about continuously buying new containers and the waste created by disposing the used ones. We were also the first restaurant in Westport to stop offering straws years ago. These are small changes, but don't be scared of taking the first step. Try not to get overwhelmed with how much there is to do: just do what you can and then think about what's next. Especially in restaurants, those little steps add up, and we can make a really big impact.
How did your sustainability initiatives change or evolve through the COVID pandemic?
At the start of the pandemic, a friend of mine was fundraising money to buy lunches for frontline workers, and they were able to raise $20,000 to help make a difference in Fairfield County. I was inspired by this and wanted to help restaurant workers, so we started the Food for Behind the Lines program, where we would pick out a restaurant in a different town every month and provide their employees with a box of groceries for an entire week. It was challenging, but it was great to work with Thomas and Baldor. We were able to help feed over 500 families during the pandemic by buying food from Baldor in bulk -- everything from carrots and apples to rice, flour, and other staples -- that our dedicated volunteers then divided amongst the boxes. Many other local vendors and farmers donated items, and it really made a difference for a lot of these families.
Food Rescue really jumped into action during the pandemic as well by working to take food that otherwise would have gone to landfill and get it to people who needed it. Check out Food Rescue's website to learn how you can get involved around the country! https://foodrescue.us/
What sustainability issues or opportunities do you think will be at the forefront as we move forward?
Reducing our animal consumption and making plant-based eating more accessible and manageable for people. With new alternatives becoming more widespread and accessible, people are doing it now without even trying! And for me, on a personal note, I'm working to reduce my food waste at home.
Chef Leon Fantroy
Regional Executive Chef, Morrison Healthcare at Westchester Medical Center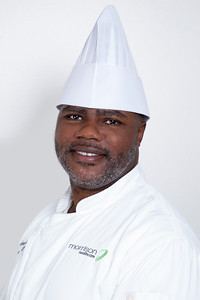 Tell us about yourself!
I'm passionate about food and the important role we as Chefs play in promoting change throughout the industry. I've been with Compass Group for over 11 years and currently serve as Regional Executive Chef for Morrison Healthcare at the Westchester Medical Center supporting eight hospitals in New York.
I graduated from the Culinary Arts program at SUNY Sullivan, worked at Walt Disney World, and spent some time in both country clubs and the restaurant world in New York City. Eventually I was looking for a change of pace, so I transitioned toward a more corporate setting, before moving into healthcare at Compass three years ago. In healthcare our focus is simple: food is medicine.
What is your sustainability philosophy?
I worked to promote sustainability through education -- through mediums like our (now-virtual) Teaching Kitchens -- smart menuing, and by reaching out into our local community. With such a large segment of the population that are underserved or living in food deserts, it's important to me to work on improving the social wellbeing of others through food. And not only does sustainability play a major part in my role, but it's at the core of what we do at Compass as a whole.
I've been working with Baldor for 15 years through various past roles, and it's great to have a relationship with you, because you're always looking for new solutions that are cutting-edge -- that aren't just on-trend but an opportunity for us to change the tide. I started working with Thomas [McQuillan, Vice President of Sales] early on about your SparCs and Imperfect Produce programs and how not only are they good for cost savings, but they're good for farmers, local businesses, and our community. Most hospitals are anchored in the community and this helps give us more ways we can help impact our neighbors and surrounding region as well.
How did your sustainability initiatives change or evolve through the COVID pandemic?​
Due to the rapid changes and fluidity of the pandemic, we transitioned our Teaching Kitchen programs from live to virtual. We also looked for ways to reduce waste due changes in style of service and the reduction in foot traffic.
What sustainability issues or opportunities do you think will be at the forefront as we move forward?
As an industry, we'll be looking for new, low-to-minimal touch ways to support the new, "COVID-friendly" service standards, like plant-based packaging and bio plastics for grab-and-go and touchless dispensers for condiments and coffee. There's a high demand for innovative equipment that will help us get closer to "normal" service.
Expanded direct-to-consumer delivery programs from vendors like Baldor are also going to be important, since those programs provide home consumers access to high-quality farms, produce, and products and bulk items that can be used for sharing programs and new opportunities. These services can help communities, especially those that are underserved, a way to efficiently and cost-effectively make those connections.
Chef Max Cavaleri
Executive Chef, Restaurant Associates at The New York Times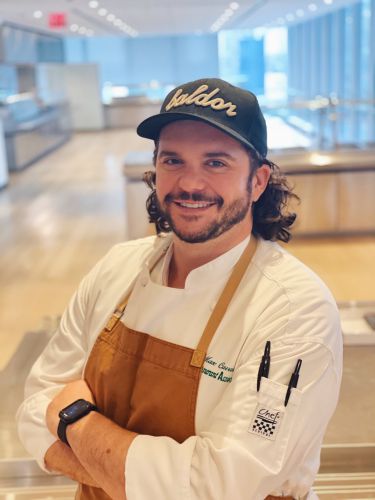 Tell us about yourself!
My name is Max Cavaleri, and I am the Executive Chef for Restaurant Associates at The New York Times. I've always been invested in creating sustainable menus. Growing up in an Italian household, I saw my great Aunt Mary use everything down to the Parmesan rinds to make these elaborate meals that brought my family together. My Jewish mother would take leftover matzah and make sweet and savory matzah brei after Passover. Respecting food and its cultural significance made me want to be a chef, and appreciating the value of your ingredients and the time and effort it took to get them to your kitchen means you don't waste them. I feel very fortunate that these values are shared both at RA and The Times. It's been really exciting to see the ways in which Restaurant Associates weighs environmental impact when implementing new programs and over the past decade I've been honored to contribute to that mission.
What is your sustainability philosophy? What types of sustainability projects or initiatives are you currently working on?
My sustainability philosophy is that everyone can contribute to sustainable practices in their daily lives by making small changes. It's unrealistic to expect people to alter their way of living entirely, but through education and making more sustainable options available, we can effect change on a much larger scale. Just prior to COVID, I was thrilled to partner with Baldor's Thomas McQuillan on events focused on food waste reduction. Currently, much of our sustainability strategy centers around preventing food waste and utilizing food rescue programs. We are also prioritizing shelf stable menu items as a reaction to fluctuating office staff during the pandemic.
How did your sustainability initiatives change or evolve through the COVID pandemic?
At the start of the pandemic, we had to make some compromises with sustainability initiatives largely around safety and hygiene concerns. This included more individually wrapped and disposable items than we would prefer from a sustainability standpoint. As I mentioned, we also had to re-envision our menu options for a smaller customer base due to work-from-home. We saw an increase in food waste as our volume of orders changed, and we had to adapt our menus to mitigate that waste.
What sustainability issues or opportunities do you think will be at the forefront as we move forward?
I hope that the shortages during the pandemic and even the situation in the Suez Canal [in which the container ship Ever Given became stuck for six days, interrupting global trade] create lasting change in how the public views food availability. We live in such an on-demand world that it's very easy to forget how grocery items actually end up in our kitchens. With that process better understood by the public, there's a huge opportunity here to address household food waste. I have also seen more sustainable disposable items come to market due to the pandemic, and I think more innovation is on its way. There was always a push for more "plant-forward" menus from a health perspective and now with a better understanding of the sustainability benefits, that push will be even greater.
Feeling inspired by these Sustainability Superheroes? We are, too, so we asked Vice President of Sales, Thomas McQuillan, for tips on how we can help make a positive impact on our environment and community. "This Earth Week, think about all of the food you purchase for your restaurant, retail store, or home kitchen, and think of all the ways you use it," he said. "Then, think of even more ways you can use it. That's the Food Asset Potential. When we send food to landfill, it not only costs us money, but it's harmful to the environment and leaves less to share with members of our community who are experiencing food insecurity. What solutions can you create to help food realize its total potential?"
To learn more about our own sustainability efforts, we'd love you to visit our Green page,our SparCs page, and, if you're a wholesale customer, take our Local Pledge.