The edible flower of the green zucchini plant is a delicacy in many cultures. The sunny blossoms have a sweet, delicate flavor and fleshy texture and can be cooked in countless ways. Dip in a light tempura batter and fry, stuff with cheese and then fry, sauté, bake into the top of a frittata or add to soups. Try to use right away after purchase. They will keep a day or so spread on a towel covered baking sheet covered with plastic wrap.
Product Details:

Size: 25 CT
Country of Origin:

United States of America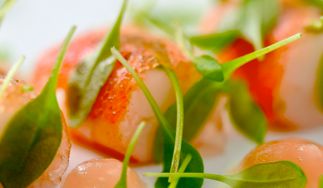 Fresh Origins Farm is America's leading producer of MicroGreens and Edible Flowers. They also grow a vast array of Petite™Greens, Tiny Veggies™ and other unique specialties near San Diego, California. If you're looking micro tangerine lace or fava bean flowers, you've...
Learn more about Fresh Origins