More About This Product
Graftons signature Clothbound Cheddar is wrapped in cheesecloth and cave-aged for a minimum of 7 months, a traditional method that allows this cheese to take on a deeper variety of flavors. The texture is firm and creamy with aromas of cave, mushrooms and fresh butter. Flavors are reminiscent of a traditional English cheddar: grassy, nutty notes dominate with lemony accents and a smooth, lactic body that carries on through with a meaty finish.
Product Details:

Size: LB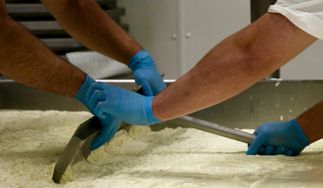 Grafton Village Cheese Company – A Traditional New England – Style Cheddar Cheesemaking traditions in the historic Village of Grafton, Vermont date from the 19th century. The Grafton Cooperative Cheese Company was founded in 1892 by dairy farmers who formed a cooperative to make their...
Learn more about Grafton Village Cheese