Olympia Provisions of Portland, Oregon uses only 100% lean, antibiotic-free, Pacific Northwest pork to make their sausages and all natural casings. Their version of a traditional Spanish style chorizo is flavored with sweet Pimenton (smoked paprika), garlic and oregano. Add chunks to preparation of Arroz con Pollo, paella, or even a pot of little neck clams steamed with white wine, onions and parsley.
Product Details:

Size: 4.5 OZ
Country of Origin:

United States of America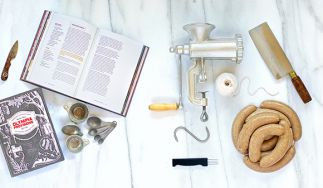 Salumist Elias Cairo, grew up first generation Greek-American with a father who made charcuterie at home. Doing things the old-fashioned way was commonplace. Elias later journeyed to Europe to apprentice in the kitchens of masters. It was there that he rediscovered the art of curing meat and found...
Learn more about Olympia Provisions