Olympia Provisions of Portland, Oregon uses only 100% lean, antibiotic-free, Pacific Northwest pork to make their sausages and all natural casings. Salami-maker Elias Cairo's Green upbringing taught him an early respect for traditional curing methods and authentic European flavors. His sopressata is made from coarse ground pork spiked with a little heat, garlic and just a touch of clove. Enjoy these moist, oily slices in sandwiches, served with grilled eggplant or slivered and cooked into baked pasta dishes or on top of pizza.
Product Details:

Size: 4.5 OZ
Country of Origin:

United States of America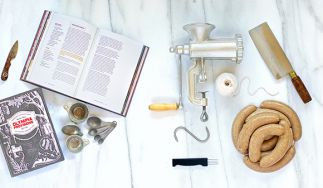 Salumist Elias Cairo, grew up first generation Greek-American with a father who made charcuterie at home. Doing things the old-fashioned way was commonplace. Elias later journeyed to Europe to apprentice in the kitchens of masters. It was there that he rediscovered the art of curing meat and found...
Learn more about Olympia Provisions