More About This Product
1883 NEUTRAL FRAPPÉ MIX brings texture and smoothnessto your frozen beverages without adding any unpleasantflavour notes. It allows the flavours of the syrups ofyour choice to express themselves and unfold freely.CREATE A FULL RANGE OF BLENDED DRINKS:The all-new Frappé Mix is the ideal ingredient for creatinga variety of drinks with a blender:Smoothies, Frozen Latte, Vanilla Frappé, Frozen Lemonade,Caramel Frappé Latte etc...
Product Details:

Size: 1 LT
Country of Origin:

France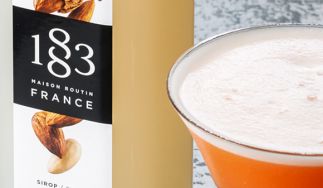 For more than 135 years, Maison Routin has strived to demonstrate its expertise in the field of beverage flavoring. Created in the heart of the French Alps, 1883 syrups are unrivaled in flavor authenticity, purity of taste, and aromatic intensity which is only achieved through the selection of the...
Learn more about 1883 Maison Routin